I Sofi Tukker e Charlie Barker stanno vivendo un successone con il nuovo singolo "Good Time Girl", estratto dall'album "Treehouse".
Con oltre 3,6 milioni di visualizzazioni, il brano è stato scelto come colonna sonora nella serie televisiva HBO "The New Pope", il sequel di "The Young Pope", di Sorrentino.
Sophie e Tucker, l'incontro
Sophie Hawley-Weld nasce a Francoforte il 17 maggio nel 1992.
L'artista fa un bel giro del mondo nella sua giovane età: dai quattro ai quattordici anni vive in Atlanta, e a sedici anni si trasferisce in Canada. Arriva anche in Italia, dove studia due anni presso il Collegio del Mondo Unito dell'Adriatico, vicino a Trieste. Successivamente, vive sei mesi dall'altra parte dell'ocenao, in Brasile.
I due genitori entrambi insegnanti, offrono la grande opportunità a Sophie di frequentare corsi e fare scambi scolastici, fino ad arrivare poi a fare la cantante.
Tucker Halpern nasce a Brookline, nel Massachusetts, il 26 dicembre nel 1989, dove cresce con i genitori e la sorella minore Lily.
Studia presso la Noble and Greenough School di Dedham, e conosce Sophie Weld all'Università Brown.
La ragazza suona bossa nova in un trio jazz, mentre Tucker, che inizia a lavorare come dj, le chiede di fare un remix per lui. I due ragazzi cominciano, così, a collaborare insieme e a dare inizio alla carriera discografica, con il supporto dei The Knocks.
Nello stesso anno, Sophie si laurea in Development Studies alla facoltà di Studi Sociali dell'università, invece Tucker, è costretto a lasciare gli studi in seguito a un grave infortunio.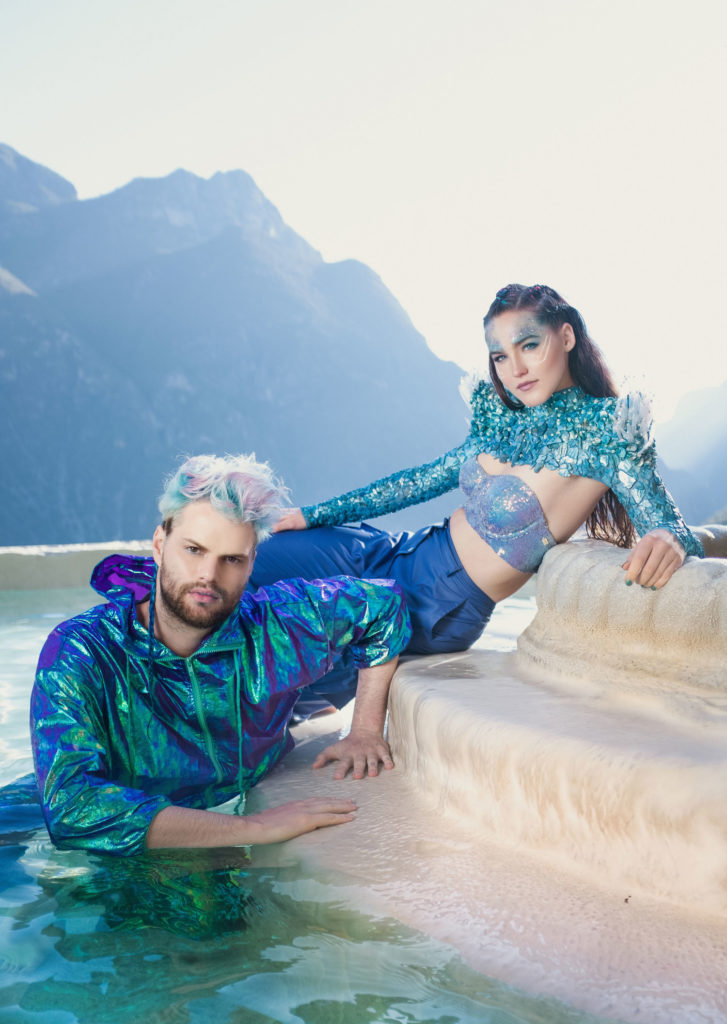 Sofi Tukker
Gennaio 2016. Pubblicazione del primo singolo "Drinkee", con un breve testo in portoghese ispirato al poeta brasiliano Chacal, accompagnato da sonorità di bonghi e chitarre elettriche.
Il brano diventa in pochissimo tempo molto popolare in Australia e Italia, e riceve una nomination come "Best Dance Recording" ai Grammy Awards del 2017.
Sempre nel 2016, Sophie e Tucker pubblicano altri singoli, e accompagnano nei tour internazionali i The Knocks, gli M83 e St. Lucia.
Anno 2017. Esce il singolo "Johny", che viene usato come colonna sonora nel videogioco FIFA 17.
In autunno, i due artisti pubblicano "Best Friend", un singolo realizzato con la collaborazione di NERVO e The Knocks, e viene anch'esso usato nel videogioco FIFA 18, e come spot pubblicitario dell'iPhone X.
2018. Esce il singolo "Batshit", usato nello spot dell'iPhone 8 Red Edition.
2019. Esce "Playa Grande", con la collaborazione dei colombiani Bomba Estéreo, che diventa un tormentone estivo.
Arrivando a oggi, 2020, con il brano "Good Time Girl", usato come sigla iniziale di "The New Pope".
Cliccate quì per ascoltare il nuovo singolo.
Seguite i Sofi Tukker su Youtube, Twitter, Facebook, Instagram e sul loro sito ufficiale!